Shop for Pure Hunting gear! Browse our latest shirts, hats, stickers and buy Pure Hunting Seasons on DVD.
Follow along as we start the Pure Hunting journey with hunts from TX Aoudad to KS Whitetail.

Follow along for 12 exciting episodes of Pure Hunting, from FL Alligators to AK Caribou.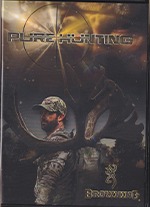 The episode content ranges from Pronghorn Antelope to Rocky Mountain Bighorn Sheep.