For this product review, I review Nock Out® lighted nocks. If you've bow hunted a fair amount, you've been in a situation where an animal steps out right before dark. If not, it will eventually. Most animals are just more active right at dawn and dusk. Unfortunately, these low-light scenarios can make it really hard to see where your arrow hits, which usually convinces you to not take the shot or deflates your confidence going into the recovery. But that problem has been solved, along with several other problems you probably have with most arrow nocks. Check out the lighted nock review video below!
As I said in the lighted nock review above, one of the most innovative features of the Nock Out® lighted nocks is the two different modes that you can easily switch between. The nocks come in 'Practice' mode from the store, which means the super bright red, yellow, or green LED lights will not turn on when you fire them from your bow. This is good to save on the battery life or when you're going on a bow hunting trip. However, you can easily switch to 'Ready to Fire' mode by rotating the silver activation collar 45 degrees. You don't need any special tools – just your hands.
Another headache that bow hunters have with buying new arrow nocks is getting the right size for your specific arrows. Nock Out® Lighted Nocks solved this problem by including three different sets of arrow shaft bushings in each three pack of nocks. These bushings will fit the five most common carbon arrow shafts out there and take the guesswork out of the equation. Simply insert the correct size bushing adaptor sleeve into your arrow shaft, and push the receiver end of the lighted nock into the bushing. That's it!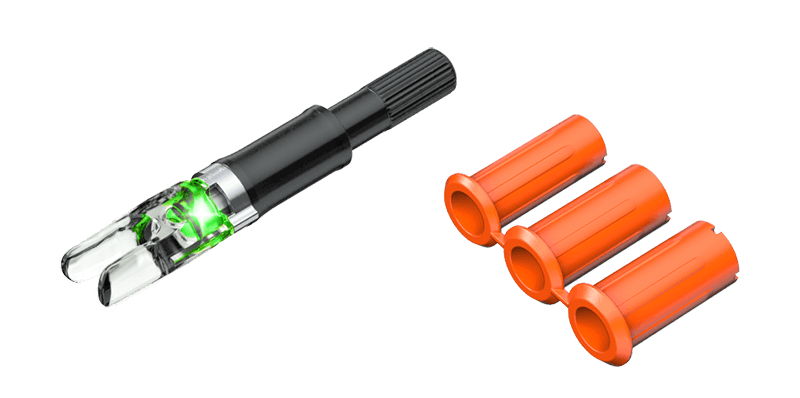 Lighted Nock Review
Practice mode to save on battery
Easily toggle between modes with no tools needed
Virtually universal fit with almost any carbon arrow shaft
Extremely bright LED lights to check shot placement and find your arrow
Waterproof and bloodproof to withstand harsh conditions
Available in red, green, or yellow colors
Find out more about the Nock Out® lighted nocks at their website!