Bow Hunting Elk in Montana
By: Willi Schmidt
The 2017 season had kicked off with some great success!  After killing my biggest bull elk to date in Utah, I headed to Alaska for my first ever moose hunt.  That was a great adventure and I was able to take my first moose.  I was ready to head to Montana to continue the season, doing what I love more than anything, chasing bugling bulls with my bow!
My gear list for this hunt included:
Gold Tip Hunter 340 arrows
Hamskea Hybrid Hunter rest
Mountain house dinners
Somerset pop up camping trailer
Kuiu sleeping bag
Marsupial gear optics harness
I drew a 900 elk tag in Montana, which is on the Eastern side of the state.   Although I had hunted the famed Missouri Breaks 4 times in the past, this would be a new area for me.  I was able to join some friends in early August for a bonsai 2-day elk scouting trip.  Putting boots on the ground for a scouting trip gave me a lot of confidence.  The scouting trip, combined with some intel from two friends who had hunted the area earlier in September gave me a good idea of how to start the hunt.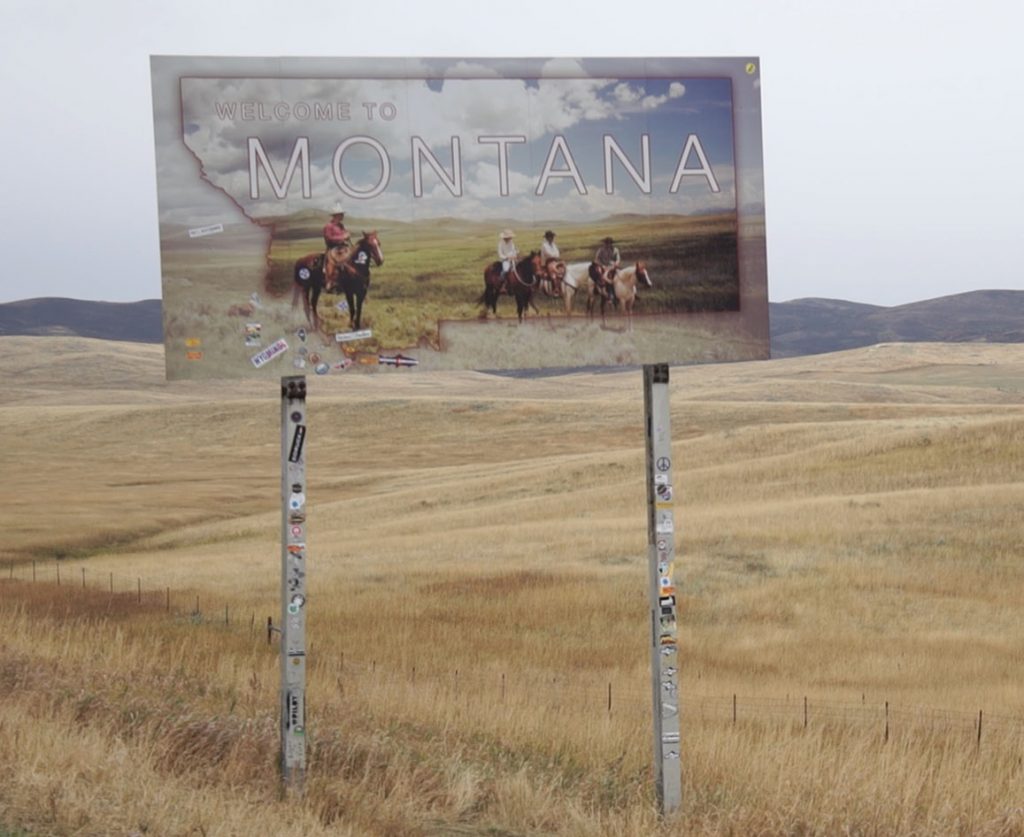 I arrived around noon, got camp set up, and headed out around 4:00.   I drove my ATV about 5 miles, shut it off and immediately heard bugles!    I headed in the that direction and for the next 3 hours, I was in bugling elk and saw 7 different 6 point bulls.  At light faded, I had called two cows in to 40 yards, hoping one of the herd bulls would come by trying to herd them up, but those 2 bulls stayed with the bulk of the cows and didn't come closer than 100 yards.  What a great start to the hunt!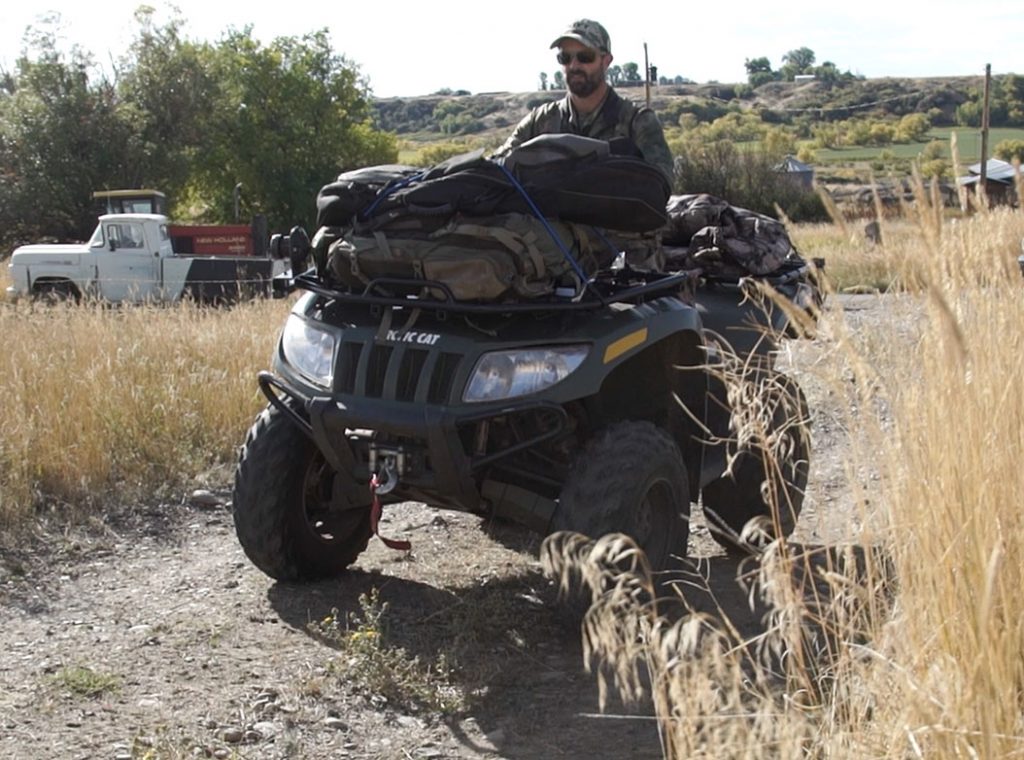 The next morning produced the same results.  Lots of bugling as they moved from the irrigated fields to their bedding areas.   I called a nice 6×5 into 125 yards, but he came in downwind and for a few seconds he put his nose into the wind, trying to smell the cow he was hearing (me).  He caught my wind and trotted off.  The bugling activity, although good, shut down pretty early and I spend the middle part of the day scouting the area a little more.  I was anticipating a great evening hunt.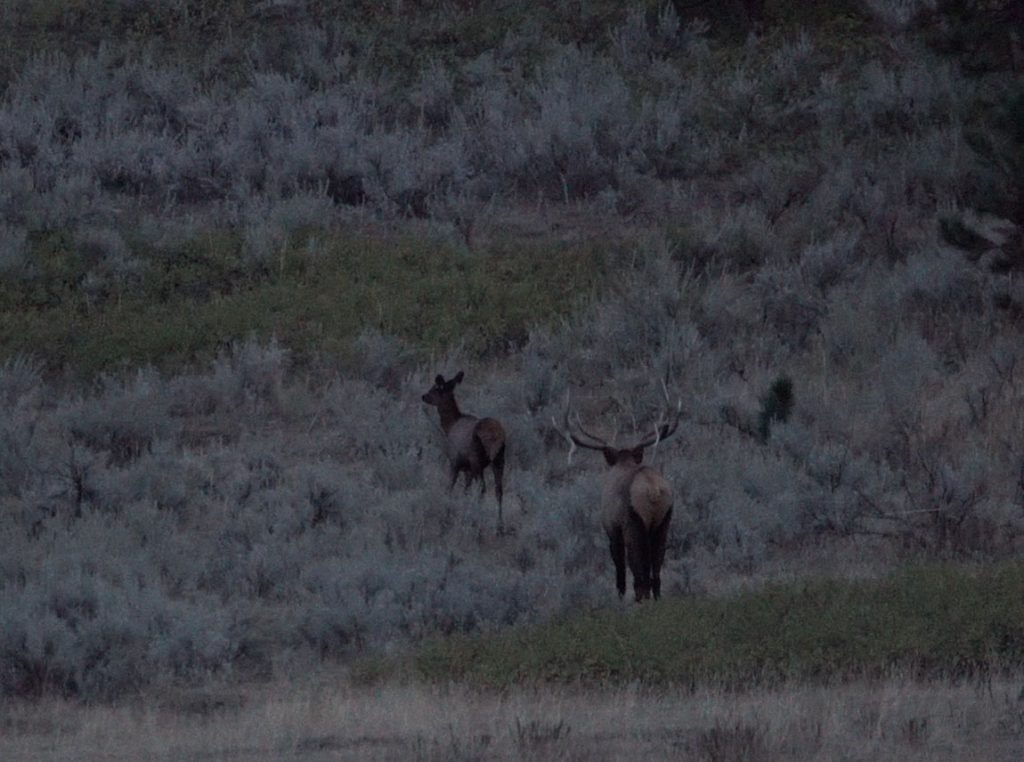 Unfortunately that evening was very quiet.  It had gotten into the mid-70's during the day and we only saw one bull with 5 cows that afternoon and evening, and although he would answer my elk calls, he never came close.  It was one of the same bulls I saw the night before but he had gone from a harem of 20 plus cows to the 5.   No wonder he didn't want to challenge me; he wanted to protect the 5 he still had left.  As soon as it was dark, the bugles started.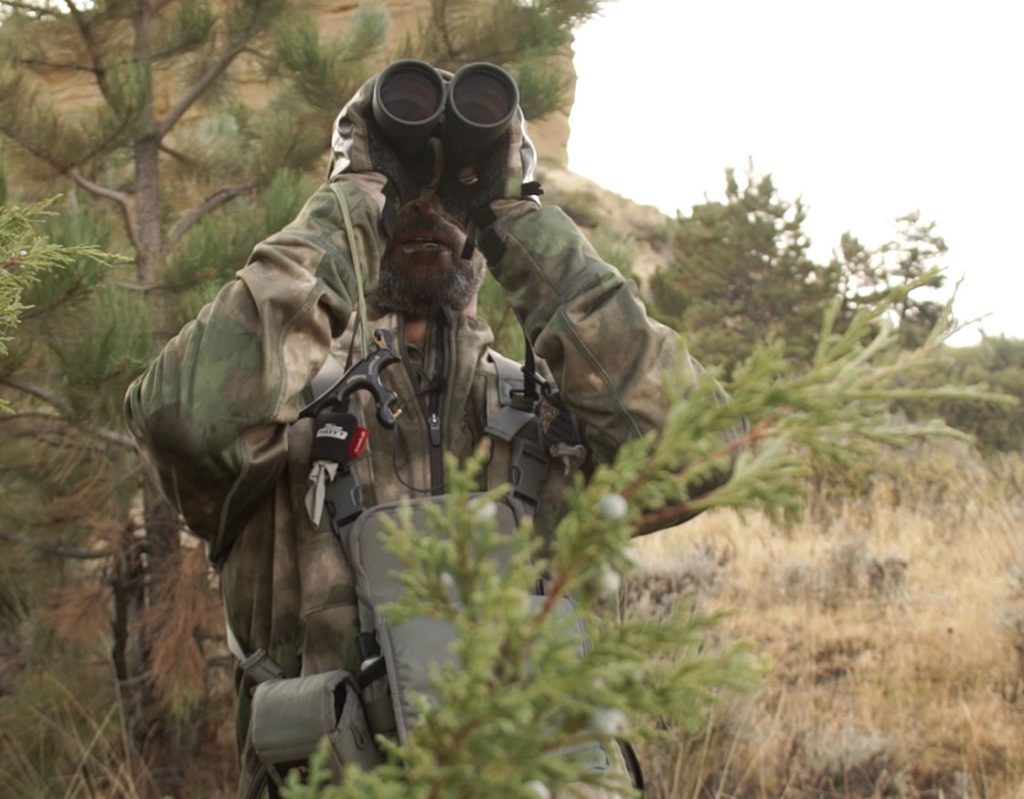 The next morning, I hunted a different area and it was very quiet.  No bugling activity at all and it wasn't until around 9:00 am before I saw an elk.  I saw a small 5 point bull hanging out with two raghorn bulls and a spike.  This was kind of odd for late September.  I did call them to my location and they all walked by at 50 yards, but none of them were very interested in looking for what was making the cow calls.  Knowing the quality of bull elk in the area, I wasn't going to shoot one of these younger bulls, but it was a cool encounter.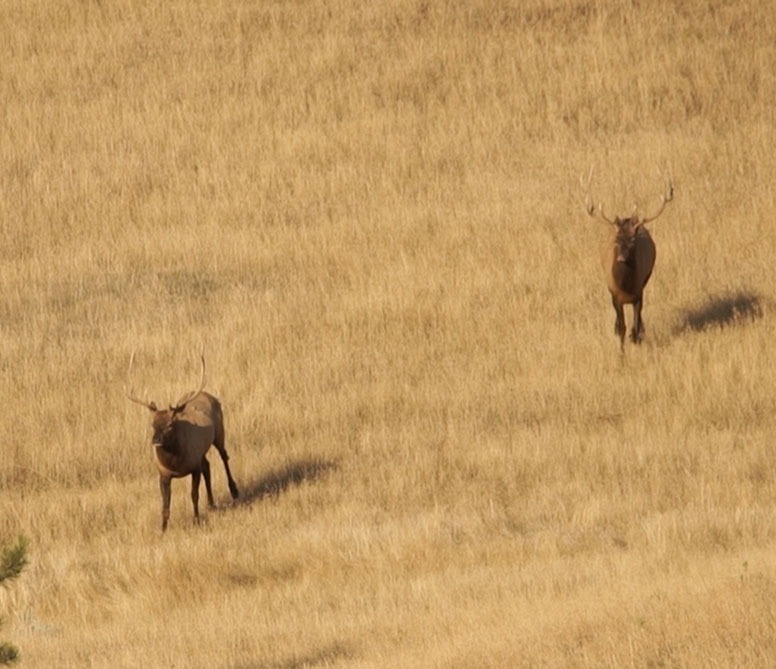 That evening, I headed to where I had hunted the two previous evenings.  I got into a creek drainage, which was central to where a bunch of canyons dropped into the drainage.  The creek bank and trees provided great cover to move any direction if and when I heard a bugle.  There was also a chance that elk would come to the creek to wallow and drink before feeding.  The temperature had again reached the mid 70's that afternoon.
I sat there for nearly 3 hours, cow calling periodically and the sun had set without hearing or seeing any elk.  Finally with about 15 minutes of light left, I heard a bugle up the creek.  Another bugle quickly followed and then silence.  I waited about 10 minutes and decided to move a few hundred yards up the drainage to see if I could intercept the bull.  As I reached to gather my gear, I looked up and saw him across the drainage in the sage brush.  When I saw him, I knew that if he came in I would shoot him.  I immediately made a couple of cow calls behind me and in the creek bottom, trying to call him past me.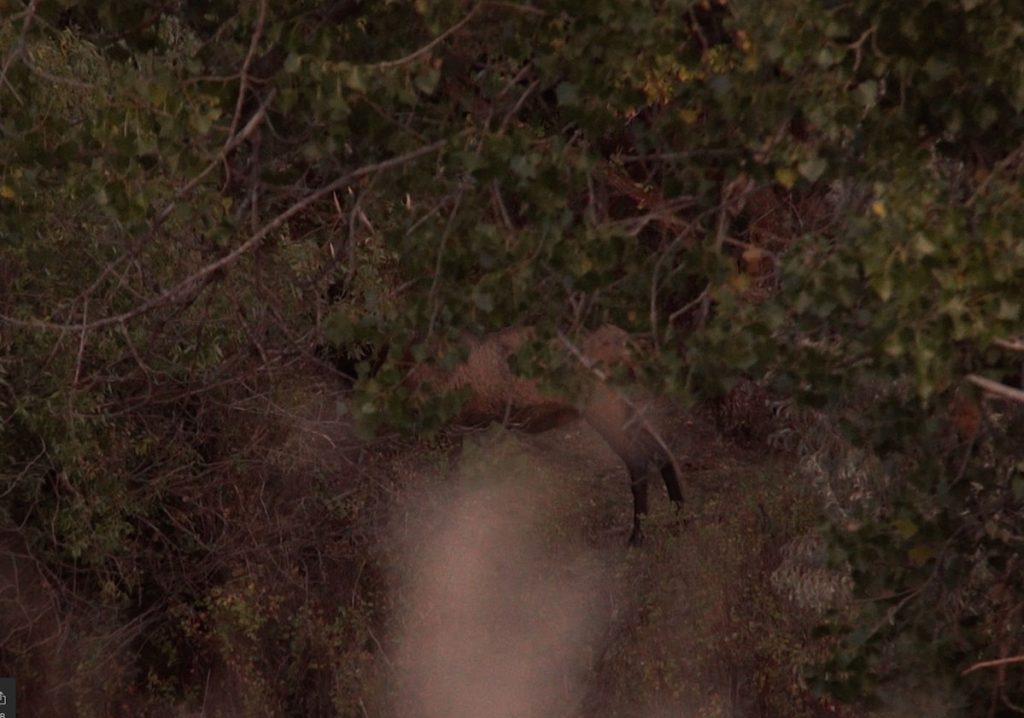 He closed in to 90 yards and then hung up.  As he turned to go back up the creek bank, I called again.  He bugled and began to rake a Russian Olive tree.  With light fading quickly and not thinking he was going to come in, I had to make my move while he was pre-occupied with his raking.  I quickly moved into the bottom and made it to 40 yards.  He was still raking a tree and had no clue I was there.  I ranged the distance, drew my bow and let the arrow fly.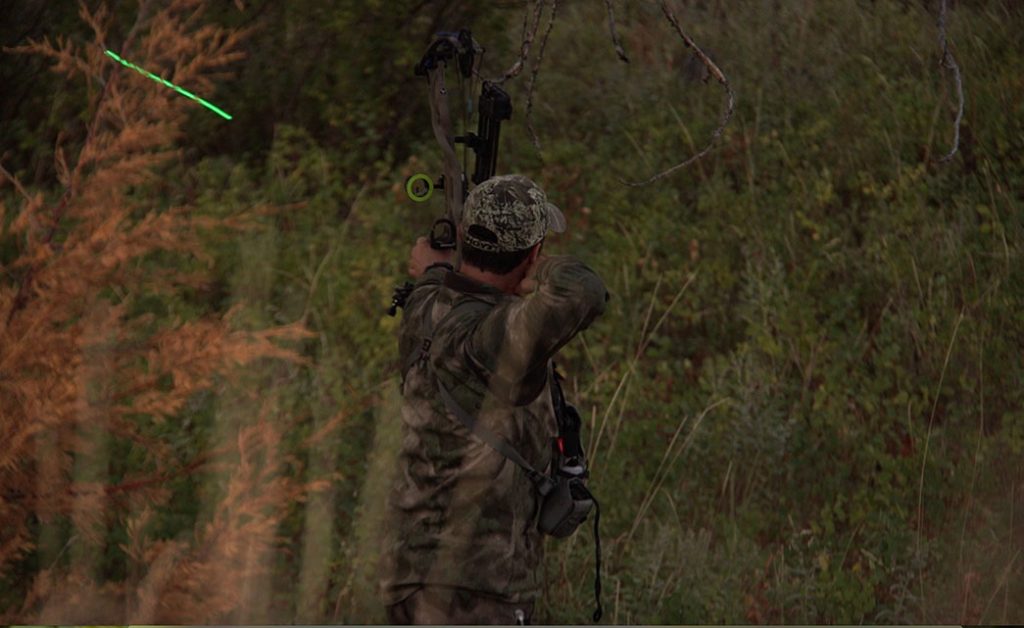 Montana recently made a change in their game laws allowing lighted nocks.  As I released my arrow, I watched my green Nock Out hit the bull, but a touch higher than I intended.  The bull took off like a bat out of hell.  Based on where the lighted nock was, I knew it was high, but figured it was high lung, not in the "dead zone". With that shot and the bull running full speed, I knew blood would be difficult to follow.  I gathered my gear and followed tracks and some blood for about 250 yards.  Based on the tracks, the bull was still running at that point.  I marked the location of last blood on my GPS and with flagging and planned to return the next morning.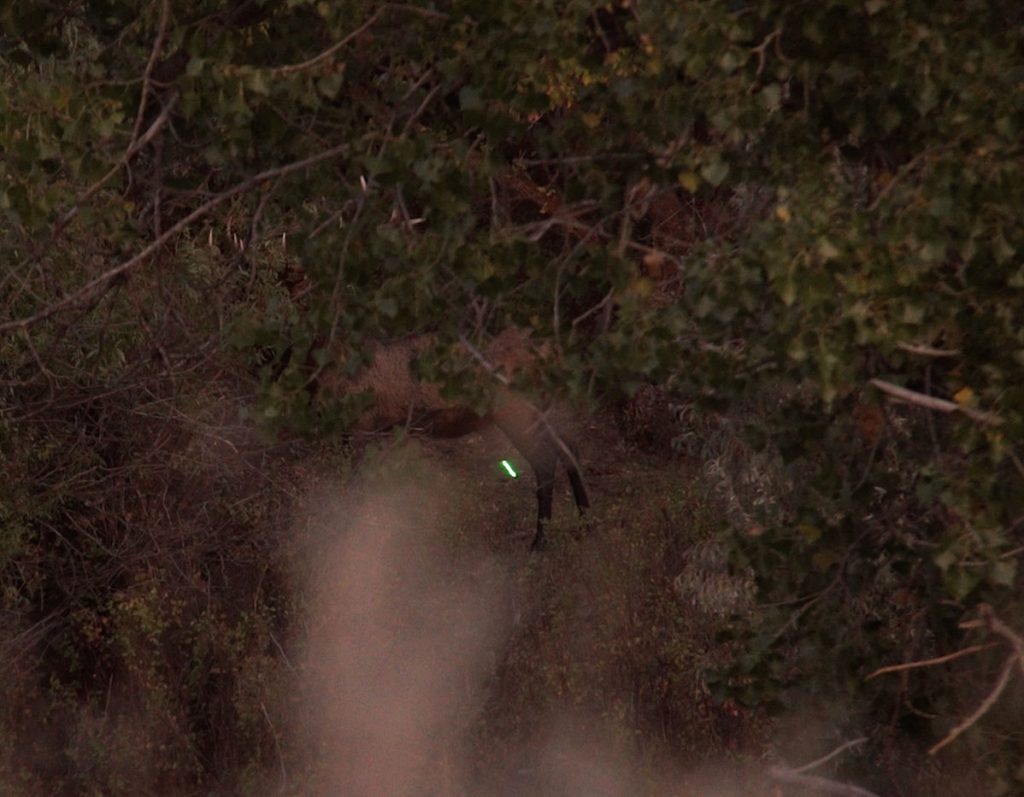 When my cameraman and I took up the trail the next morning, blood and tracks were easy to follow until he crossed the small creek, then we lost the trail.
We made circles trying to pick up a track and blood and eventually walked the creek bottom for a few hundred yards and a few drainages to the South, after hearing a coyote howl.  Turns out there was a prairie dog town and he was hunting those, not on my dead bull.
Another hunter helped us in our search and by now I had resigned myself to a grid search.  We had all separated and I began walking up a dry wash, looking for tracks and blood and looking up on the banks under the trees.  After about 200 yards, I glanced up and behind me and saw the bull's hind leg sticking out of a willow about 6 feel above the bottom of the wash!  It turns out the other hunter had walked about 20 yards from that spot from above and didn't see him!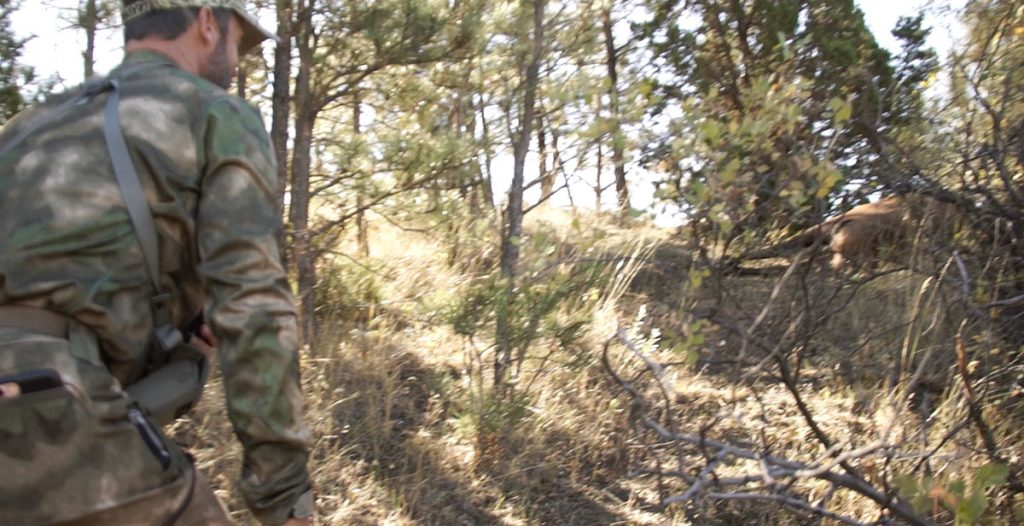 I was incredibly relieved to find the bull and have the closure we as hunters look for.  Not only did I find him, but he had been in the shade so the meat and cape were all fine!  My guess is that he ran nearly the entire distance, stopped to bed and quickly died and rolled into the willow.   Not only did the 2017 archery elk season end with a successful hunt, it was my best archery bull to date.
I'm always a little bummed out when the archery elk season comes to a close, even with a successful hunt.   I won't be chasing bugles for 11 months, but I've got a lot of great memories and a full freezer to tide me over.
If you enjoyed this blog check out DIY elk hunting 101 and elk calling 101, two informative blogs that could help you on your next elk hunt!